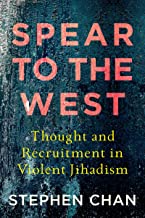 A Spear to the West
Thought and Recruitment in violent Jihadism
Review
Spear to the West offers an in-depth understanding of the so-called jihadist culture. Jihad is a concept shrouded by thick layers of misgivings. Over two centuries of European colonialist interaction with its former colonized Muslim people has not changed the western perception of Islam and Muslims. The Orientalists' romanticized version of the esoteric East has been substituted with a horrible image of Islam and the Muslims as militants, fundamentalists, extremists and terrorists.
Stephen Chen takes a totally different route. His search for the root cause of Muslim protest led him to believe that the jihadis are not crazy adventurists who sacrifice their lives due to brainwashing and emotionalism. He finds several factors responsible for their well-planned and executed projects. First among these is the impact of classical and modern Islamic texts made available to them through modern electronic means of communication. Among the classical writers, Taqi al-Din Ibn Taymiyyah (1263–1328) is a favourite scholar whose name is searched 5000 per month in Saudi Arabia (p. 116). And among modern thinkers, Sayyid Qutb's name is searched around 4500 per month in Egypt and Saudi Arabia. The author asserts that the jihadists are not against modernity, as they are fully conversant in I.T. and strategic planning.
Many of the jihadis were born and raised in the developed world where they also received their secular education. However, at some point in their lives, they got disillusioned. Chen quotes one of the perpetuators of the 7/7 London bombing as saying, 'I and thousands like me are forsaking everything for what we believe. Our drive and motivation does not come from tangible commodities that this world has to offer …your democratically elected governments continuously perpetuate atrocities against my people all over the world … until you stop the bombing, gassing, imprisonment, and torture of my people we will not stop this fight (p. 141).
---