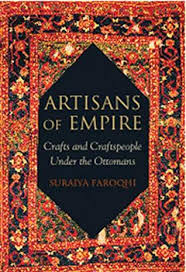 Artisans of Empire
Crafts and Craftspeople under the Ottomans
Review
Suraiya Faroqhi, professor emerita for Osmanistics at Munich University, was born in Berlin, in 1941, from a German mother and an Indian father. Her entire education was undertaken in Germany. She went to Turkey quite late, learning Turkish while teaching at Ankara and later at Bilgi University in Istanbul. Then, however, she published, mainly in Turkish, English, and German, several dozen books on Ottoman history, as a world authority in that field.
This is a well-deserved unofficial title because Faroqhi worked most meticu- lously, bringing her intimate knowledge of Turkey to bear, and that with the highest scientific standards imaginable. As a result, her book under review is so richly detailed that it serves better for documentation than for reading.
It traces the history of Ottoman artisans from 1500 to 1912 when guilds were abolished by the Young Turks – her focus being on Istanbul, Bursa, Aleppo, Jerusalem, Damascus and Cairo. A history of artisans, organized in guilds, keeping production and sale in one hand, quite similar to the situation in Christian Europe – Evliya Çelebi being her key witness.
As described by the author, all artisans in Ottoman Turkey, Muslims or not, except tavern keepers, enjoyed the same prestige. They determined quality standards, set the prices, built craft solidarities, and practised a brotherhood based on modesty, self-control, abnegation, and a strong focus on basic values, as Muslims with a specific veneration of Imam [Ali. Inter-regional commerce was more important for them than international exchange.
---