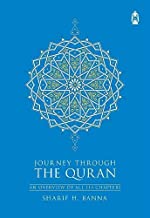 JOURNEY THROUGH THE QURAN
AN OVERVIEW OF ALL 114 CHAPTERS
Review
This book is essentially a handy and very useful tool which provides a conceptual overview of the 114 Surahs (chapters) of the Holy Qur'an. For those regular readers of the Holy Qur'an, this book will enable them to understand the context and significance of each Surah as well as the important points included in them, hopefully to be practised in their daily life.
For those readers of the Qur'an who rely on English translations, this book will further enhance their understanding and grasp of the key verses of the Qur'an. It will also enable them 'to appreciate the content, theme and message of each Quranic chapter.'
The key feature of the book are the mind-maps for each Surah which enables one to mentally picture the main sections and themes contained in it and, thus, allow a better grasp of what one is going to read.
There are also key stories, messages and lessons from the Qur'an which provide a better and more nuanced understanding of the important messages being transmitted throughout the Qur'an. They cover many areas of faith, spirituality, knowledge, recommended actions, morality, equality, justice and so on and so forth, which are all very important matters in one's personal spiritual life and worldly matters.
---