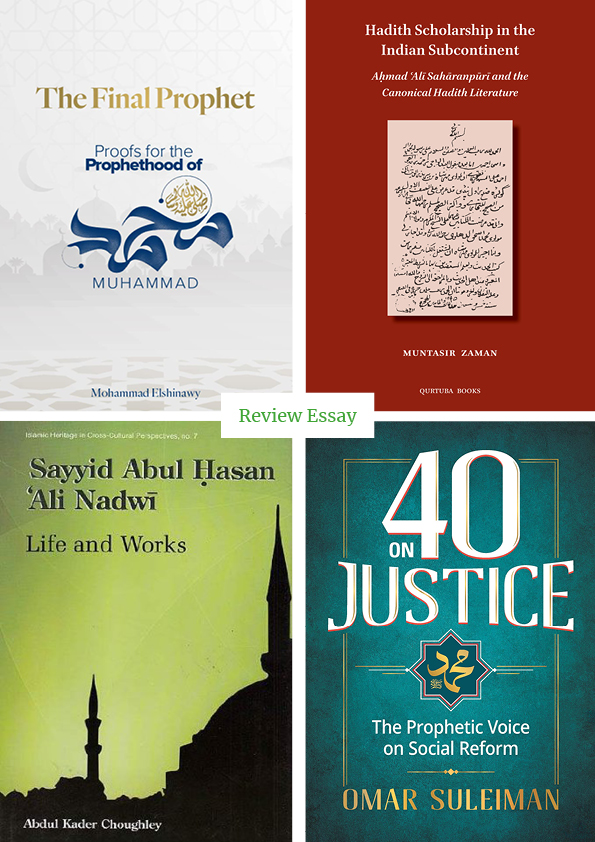 Some Recent Works on the Sirah, Hadith and Revivalism
Review
THE FINAL PROPHET: PROOF OF THE PROPHETHOOD OF MUHAMMAD (SAW), by Mohammad Elshinawy. Markfield, UK: Kube Publishing, 2022, 222pp. ISBN: 9781847742070.
40 ON JUSTICE: THE PROPHETIC VOICE ON SOCIAL REFORM, by Omar Suleiman. Markfield, UK: Kube Publishing, 2021, 339pp. ISBN: 9781847741431.
HADITH SCHOLARSHIP IN THE INDIAN SUBCONTINENT: AHMAD ALI SAHARANPURI AND THE CANONICAL HADITH LITERATURE, by Muntasir Zaman. Leicester: Qurtuba Books, 2021, 60pp. ISBN: 9781916023246.
SAYYID ABUL HASAN ALI NADWI: LIFE AND LEGACY, by Abdul Kader Choughley. Aligarh, India: K.A.N. Centre for Quranic Studies in association with Springs, South Africa: Ahsan Academy of Research, 2022, 416pp. ISBN: 9789391601256.
-----
Mohammad Elshinawy made his mark earlier as an author on the Sirah of the Prophet (blessings and peace be upon him) who is exceptionally good at recontextualizing the Sirah for today's readership, with his laudable exposition of the values of compassion and mercy embodied by Prophet (blessings and peace be upon him) in his fairly recent inspiriting book, The Prophet of Mercy: How Muhammad (SAW) Rose Above Enmity and Insult, co-authored with Omar Suleiman, (Markfield, Kube Publishing, 2022). With the objective of recontextualizing the Sirah to our era, his book under review opens with a question by an inquisitive thirteen-year old boy to his mother: "Mama, how do we know Islam is right?" The book represents a sincere and earnest attempt to persuade today's readers of the rationale behind the institution of Prophethood and the need to follow in the Prophet's footsteps for their own best interest.
Under the rubric of Dala'il al-Nubuwwah (Proofs for the Genuineness of the Messenger of the Prophet blessings and peace be upon him), there exists a rich body of writings by Muslim scholars. Of these, the most noteworthy is by Imam al-Shafi[i (d. 820) and Imam al-Bayhaqi (d. 1066). These seek to vindicate the truth of divine Revelation (wahy) and Prophet Muhammad's Messengership. Scholastic theology ([Ilm al-Kalam) constantly articulated the truth of the Islamic doctrines in the face of the intellectual challenges of the day, be these Greek philosophy in the past or secularism, liberalism and materialism in modern times. As to asserting the uniqueness of Prophet Muhammad (blessings and peace be upon him) as the benefactor of mankind, one is reminded of the lectures on the Sirah by the Indian scholar Syed Sulaiman Nadwi (1884–1953) in Urdu entitled Khutbat-i Madras (English translation: Muhammad (peace be upon him): The Ideal Prophet. Lucknow, India, Academy of Islamic Research and Publications, 2013).
Of similar import is Elshinawy's present work, though it addresses the intellectual and socio-cultural milieu of today. The book perceptively reaffirms the need for Prophethood and brings into sharper light the sublime character, conduct and mission of Prophet Muhammad (blessings and peace be upon him).
---